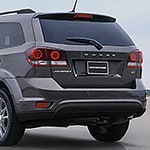 As you will see when you visit Camrose Chrysler Ltd., the Dodge Journey is a mid-size SUV that acts much bigger than it is. While it is so versatile, it is much easier to manage and control than a full-size version. This allows the driver much more flexibility off-road, thanks in part to the following features.
The Dodge Journey has a powerful V6 engine. This means that it can tow as much as 2,500 pounds of cargo. That will allow you to load down a trailer of fun equipment and head out of town on a weekend adventure. That is what this vehicle is built for.
You will also have a choice of three different suspensions. This is really useful because it allows you to customize the vehicle to suit your personal driving style. Give it a try the next time you are at Camrose Chrysler Ltd. You can take a test drive and see what you think.