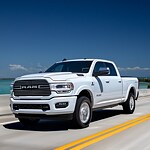 The Ram 2500 is a great option if you are looking for a pickup truck. It can tow up to 15,000 pounds. One of the many reasons that this truck is a great choice is because it is durable. There are several features on this truck that make it durable.
It has a 50,000 PSI steel frame. It is designed for maximum strength and efficiency. You will be able to securely place your suspension mounts and components. This truck also has a smart diesel exhaust brake system. It will be easier for you to control your vehicle when you go up and down a hill.
It will also be a lot easier for you to handle a heavy load. Additionally, your vehicle will have more stability. There will be less wear and tear on your brakes. If you need to test drive the car, then you can visit our dealership.